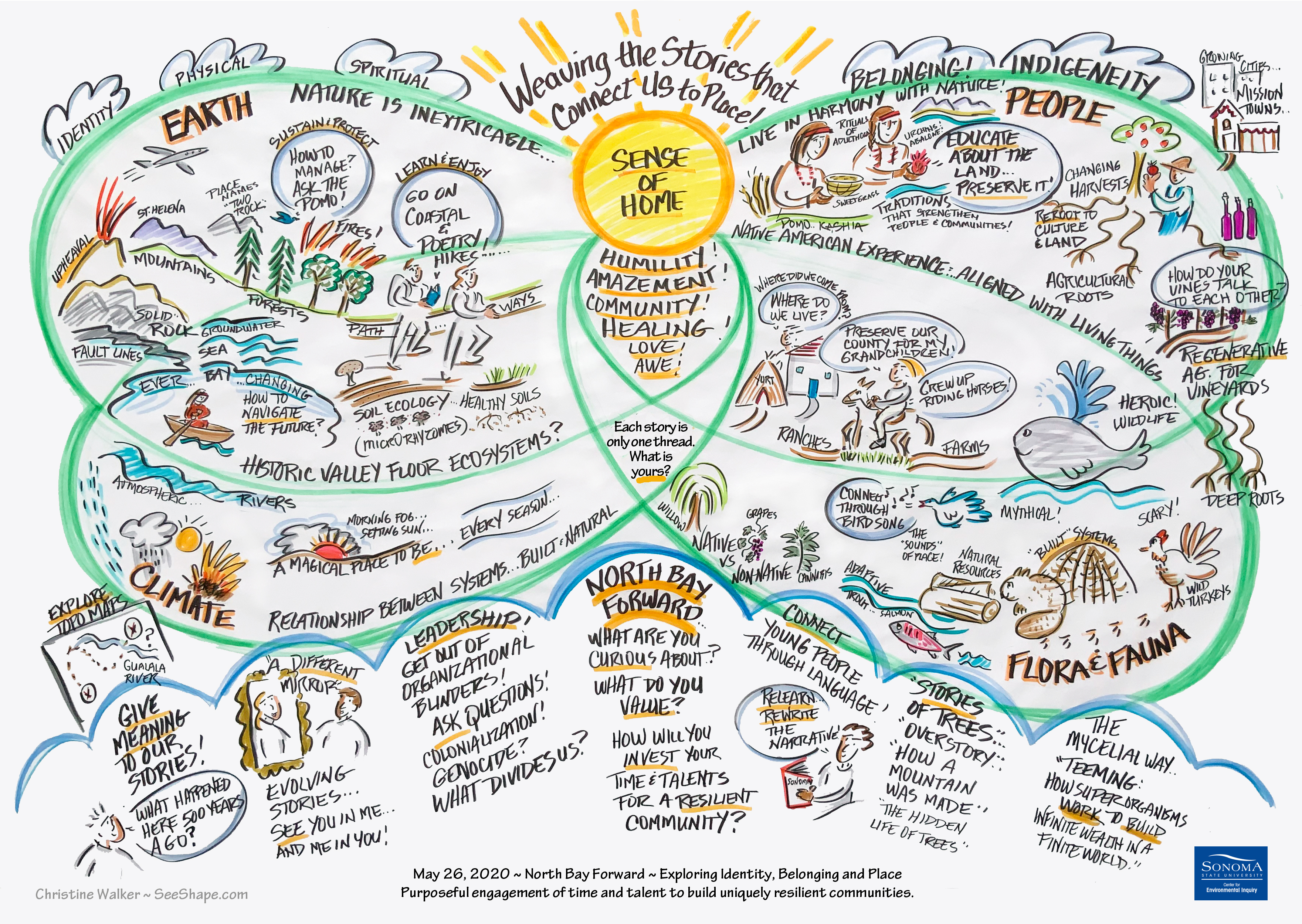 As a forum for connecting the dots of collective wisdom from the community and communicating across sectors and interests, the North Bay Forward community explores pathways towards a Systemic, Place-Based Planning for a Sustainable, Resilient Future. Our inaugural visioning charrette identified the four interconnected systems, upon whose health the future we envision depends: Natural, Structural, Human Capital and Cultural. While abundant discussions rage around our Natural, Structural and Human Capital Systems, little time is actually devoted to the Cultural Systems, which connect these systems via the stories we tell about ourselves and our relationship to our unique place.
Resilient communities are built upon the unique assets of the people that inhabit it and the characteristics of the natural world in which they reside. In turn, individuals only engage their time and talents in their community if they feel a vital part of it. These communities are built upon common stories about our place. Exploring the stories we tell, and finding common threads between them, help us understand the Story of Our Place. The North Bay Forward community chose to spend the unique time in history the SIP has ushered in deeply exploring our sense of identity, belonging and place in the North Bay as a way of driving community engagement. These conversations are organized around the stories of place identified in the Foundation section of the Exploring Sense of Place Guidebook, along the schedule outlined below:
April 7: Story Discussion: Deep Time Geological Story
April 14: Story Speaker: Arthur Dawson "Where the World Begins" - stories of Sonoma Mountain.
April 21: Story Discussion: Weather, Climate, Seasons and Watershed Stories
April 28: Story Speaker: Jay Jasperse, Chief Engineer and Director of Groundwater Management for Sonoma Water, spoke on the relationship between atmospheric rivers, flooding and drought, anticipated climate change-related changes of these phenomena and the kinds of solutions Sonoma County is working on to become more resilient.
May 5: Story Discussion: Wildlife Story
May 12: Story Speaker: Tom Robinson and Stu Weiss, Project Team of the Conservation Lands Network 2.0, spoke about their habitat preservation work to ensure our native wildlife survive and thrive in the face of the increasing human population and climate change in the North Bay and how we as individuals, land users and organizations can support this goal.
May 17: Story Speaker: Story of Indigenous People: Elaini Vargas of Stewarts Point Rancheria is an SSU alum, Koret Foundation recipient and member and employee of the Kashia Band of Pomo Indians, the first inhabitants of the coastal Sonoma County area around Fort Ross. Recently named a SustainableSSU Alumni Champion, Elaini discussed the history of Kashia access to the ocean and scientific partnership with the Sonoma MPA Collaborative, as well as her environmental and cultural work, including citizen science, land stewardship opportunities and Kashia based K-12 education curriculum.
May 24: Building a Visual Story of Place: Resilient communities are co-created when the unique assets of the people in place are fully engaged with each other and in the natural world around them, making them unique to time and space. The stories we share about the geologic, climatic and wildlife systems around us speak to our relationship to both, and this closing discussion explored the connections between these stories. Aided by the visual storytelling time and talent of Christine Walker, we created a visual summary of the connections between stories we discovered in our journey along Stories of Place, the lessons learned and our individual own role in this greater story.
Recordings from some of these sessions are available via the links noted above. Notes, chats and background materials can be accessed in this folder.